"Sit the fuck down. You're dealing again."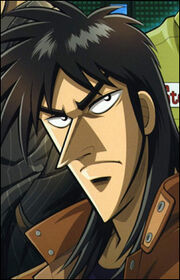 The main character of the story.
Kaiji is poor, downtrodden and lazy - he lives by himself in a slum and is constantly in debt. He bides his time by playing cheap gambling games with neighbors, though he always loses. In spite of this, when his life is in danger, he displays a remarkable hidden capacity for gambling, which allows him to endure the hardships he faces. He is shouldered with a 3,850,000 yen debt at the beginning of the story by a coworker who convinced him into consigning a loan, leaving Kaiji with the full weight of the debt compounded over a year.
Ad blocker interference detected!
Wikia is a free-to-use site that makes money from advertising. We have a modified experience for viewers using ad blockers

Wikia is not accessible if you've made further modifications. Remove the custom ad blocker rule(s) and the page will load as expected.