Welcome to the Kaiji World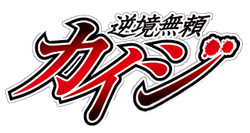 Warning: This series is intended for audience aged 18 and above. Please also note that there may be spoilers in this site.
Hello and welcome to Kaiji World, World of gambling, tricking, and betraying. Here we will try to make a huge community of this great show which didn't take the right follow-up and attention.
Tobaku Mokushiroku Kaiji(賭博黙示録カイジ) lit. Gambling Apocalypse Kaiji, also known as Ultimate Survivor Kaiji, is a Japanese manga series written by Nobuyuki Fukumoto, with its first part of the manga (13 volumes) adapted into a 26-episode TV anime series called Gyakkyō Burai Kaiji: Ultimate Survivor (逆境無頼カイジ Ultimate Survivor), which began airing in October 2007. A second season of the series based on the second arc of the manga, titled Gyakkyō Burai Kaiji: Hakairoku-hen (逆境無頼カイジ 破戒録篇) premiered in April 2011 and ran till September of the same year. The series also spawned a number of franchise under its title in games for the Playstation, NintendoDS, mobile, Japanese pachinko and slot machines, as well as social games.
A live-action 'Kaiji' movie was released in 2009 in Japan with Tatsuya Fujiwara playing the role of 'Kaiji'. Tobaku Mokushiroku Kaiji is considered Fukumoto's most famous work and is well-known in both Japan and Korea. It was the winner of the the General category of the 1998 Kodansha Manga Award.
Quick Links
Helping out
Before creating a new article, please check here in case of duplicates. To create a new article just enter the title in the box below.
Poll
What was your favorite gamble in Kaiji Anime so far?