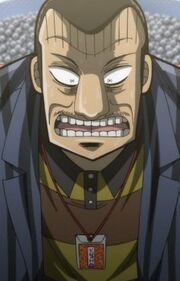 Kotaro SakazakiEdit
A middle aged man, security guard whose daughter and wife left him because of his economical problems. He's been looking for a young gambler to help him since then to beat the Bog and win enough money to buy a house so his wife and daughter will return to him. At first he wants Kaiji to help him beat the Bog but later helps Kaiji defeat the Bog.
Ad blocker interference detected!
Wikia is a free-to-use site that makes money from advertising. We have a modified experience for viewers using ad blockers

Wikia is not accessible if you've made further modifications. Remove the custom ad blocker rule(s) and the page will load as expected.